Written by: Bernadette Angeles

After Beyonce said, "Girls, we run this motha, yeah, Girls we run this motha, girls…Who run the world?…" I haven't jerked my shoulders up & down the same ever since.
Women empowerment can be defined as a process in which women elaborate and recreate what it is that they can be, do and accomplish. The feminist movement has always been. It's the process that keeps women motivated and inspired to become stronger and more confident in all aspects in life but more importantly proves that all genders are created equal. Women Under The Influence a.k.a. WUTI is a community founded by director Tabitha Denholm,  celebrating women in groundbreaking cinema and in all arts by women, for everyone.
Women Under The Influence will be holding a one-of-a-kind event you won't want to miss: WUTI GOES IDYLLWILD. Wuti Goes Idyllwild will be taking place on September 20th-22nd in the lovely town of Idyllwild, CA. This event will be the first of its kind showcasing cinema, art, books, screenings and panel discussions. This event is for all that are passionate about being who they want to be and discovering those that have made it happen.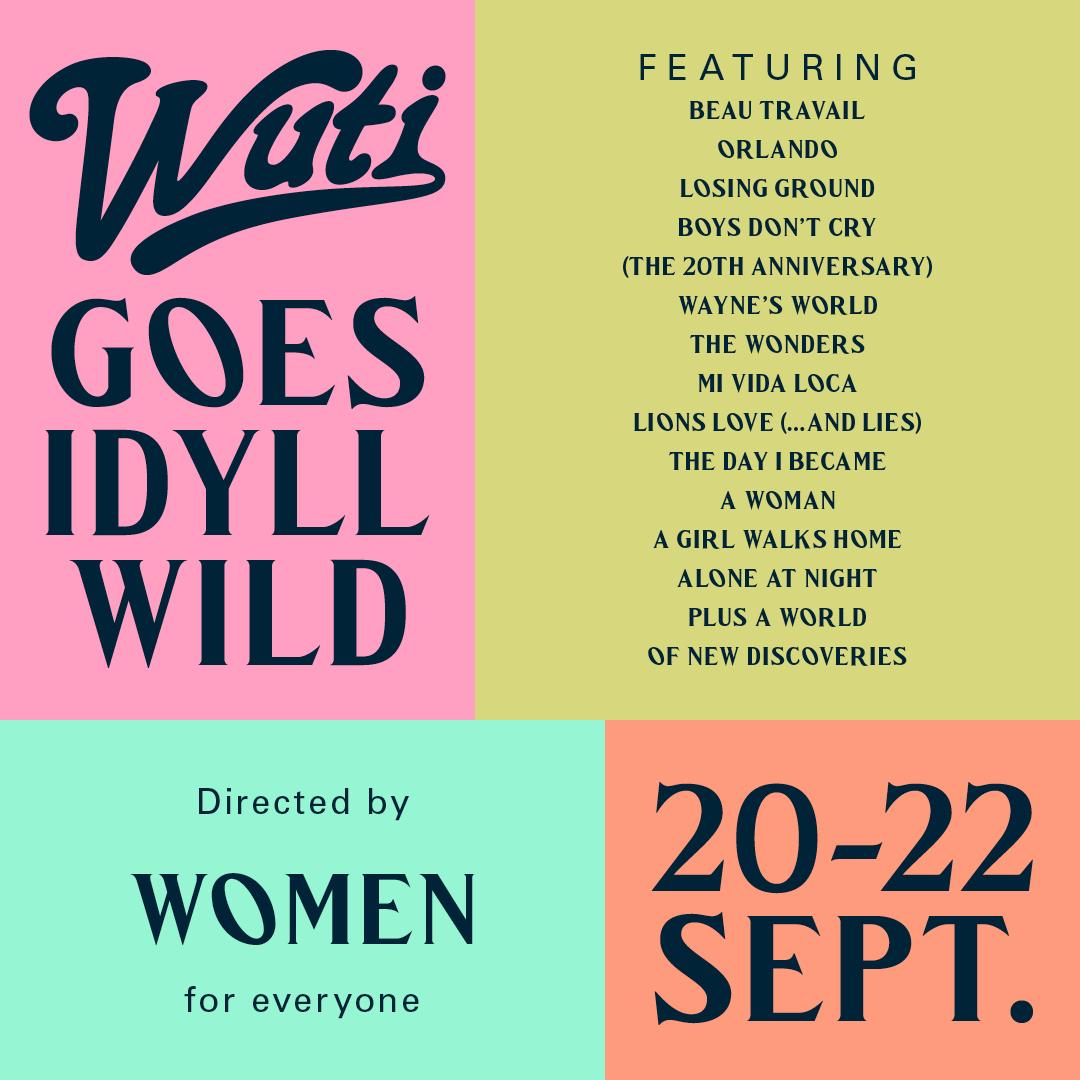 Frank151 had the chance to talk to Tabitha about WUTI and what they have in store for Wuti Goes Idyllwild.
FRANK151:Tell us a little about WUTI and how it got started.
TABITHA: WUTI is a community project that I started back in 2015. Basically I'm a director. I make music videos. I started to try and make commercials and it was the first time I actually experienced that kind of unconscious bias – sexism we've heard so much about in the industry. There's sort of a quite profound idea that people had that women were less capable when it came to making certain types of work. Usually the better type –[laughs] better paid types of work. And I was kind of saddened by the lack of knowledge that people even in the industry had around women filmmakers and the history of filmmaking driven women and how that lack of knowledge fed into that unconscious bias. So if you don't see any women directors it's like "Is it because they're not good?" "Is it because they're not good at it and because they don't have natural propensity to manage a group of men." It's also a quite passion of mine. I love films and good films directed by women. And I also had a viceral experience with films growing up when I saw films directed by women. I was excited to share stories of heroic women filmmakers. It was just an Instagram account at first and you kind of discover that women directed stories are as exciting in the film that they make because women in history had to "slay dragons" and "climb mountains" to really get their voice heard. It was really fun to share their stories and sort of putting the puzzle together of cinema driven by women. It's kind of like a parallel of the history of cinema. It's this official cannon but then there's this other cannon that just doesn't get that much attention. Also moving to L.A. from London, it was also about building community. The idea of sharing the love of cinema. Sharing the love of old cinema because there's not that much of that in L.A.. There's Cinefamily, New Beverly and a few other cinemas but compared to London & New York where you could see repertory cinema. You could see five old films every night of the week in London. And weirdly because L.A. is obsessed with newness, it doesn't really have that so wanting to show these specific types of films, it sort of dovetailed with this other project. 
So to you it's not just about new-age films but shining light upon old cinema and women's role in it.
Definitely. It's about creating the future and recreating the past. Using the history of women in film and springboarding it to build a brighter future for women. Also there's a continuity there's been "Years of the Women" but women in the 20's were talking about stuff like this. It's not a new conversation and it's awesome to be able to "dip a cap" to all the pioneers that having been breaking boundaries since the beginning of cinema. It's kind of a shame that it's always been this circular thing like when we see a picture in Vanity Fair of all these different women and it's like 1994 and it's like– hopefully this time around it's different. It's not just about women directors it's about all types of roles that can make this zeitgeist-y moment sustain and a shift in a broader consciousness as well.
It's as if in general just us humans, no matter what gender; we're all equally capable. But that we can "tip the hat" to women filmmakers, artists, musicians– give recognition where recognition isn't always given.
I think that it's a very simple premise that storytelling is so innate in people and that there are very different types of directors as there are people. Whether they get budgets, funding, recognition– that's a whole different thing– whether they could work in a system. Wherever you go, whatever pocket in the world– the time in history, there's always women. There's always people of color. There's always people trying to get their story out, but whether it gets out or is allowed to exist that's another subject.
What is "Women Under The Influence" in the sense that was it a hastag on social media or was it about reaching out to other people to try and form a community of like-minded individuals or other female artists?
It was just like a blog really– an Instagram blog. It was about writing stories about these different women that were really inspiring & exciting. A lot of times it was like, "What, she did this?! –wait no on ever did– how come I never heard of this?!" So it just started with writing these types of stories and there's a lot of account now that do a similar thing and I think it's fantastic and an interesting resource. It was actually really inspired by another Instagram account called "Rich History" but now is called "Unsung Heroines." It did something similar, but with women in sports so I was inspired by Molly who runs that– [laughs] with permission. I told her "I kind of want to do it for film" and she was like, "Yeah!" She now has a book and is working on a series. There's this work place called Neuehouse and I've been trying to find a place where you could show a film but a place where you can hang out afterwards. Because I love that we can share this hour and a half together– sometime this profound experience and sometimes the energy has immediately dissipated. But I love to carry it on, pull it apart and talk about it– and [laughs] be annoying and be like, "Well I think that part– blah,blah,blah…" Neuehouse gave us that opportunity because it's part of their programming and we can do the events for free. Anyone can come if you're quick to the mark– join the mailing list that's on the Instagram– you get the invite and you can come.
That's the one that's off of Sunset (Blvd.)?
Yes, that's actually on the site of the first film studio ever from 1911 in Hollywood (CA).
When did Neuehouse become Neuehouse?
It was in 2015 when I met Meredith. It's three of us running the [Wuti Goes Idyllwild] festival. It's Meredith who is the programmer at Neuehouse and Nora who is a creative director that came from the magazine world. I met Meredith right at the birth of Neuehouse– suddenly I was like, "We can do this here!" It was the perfect space and their screening room wasn't even built yet. When we did an event in the theater it was great, there was about 200 people. When we screened Kathryn Bigelow's 80's vampire movie Near Dark it was really and we've been going at it ever since. It's nice to be in a place where it has so much resonance and history. It's really made it possible to put this community together.
Tell us what you guys have planned and will be showing at the (Wuti Goes Idyllwild) festival.
There's so many things I'm excited about from showing Losing Ground which is the first film-ever made in America by women of color and the director's daughter is coming to tell us all about it. We've got Karen O from the Yeah Yeah Yeahs. Diane Warren who'll be talking to us about making music for films. Barbara Kopple who is a movie making legend and is a double-Oscar winner. She's going to be telling us about her life new doc[umentary] and show us her new film. We've got this whole theme called "L.A. Stories" because I really love talking about reclaiming the canon. There's this history that's sort of about "L.A. movies" and then there's all these big films made by men but there's also these amazing films also directed by women and that tell stories outside the Hollywood system as well. For example our tribute to Agnes Varda is we'll be screening her film Lions Love (…And Lies) which is about L.A. counter-culture and with Viva, who is sort of this Warhol superstar whose fabulous. She's coming to talk to us about making that film and that whole experience. We've got the women of the L.A. Rebellion which was a movement in the 60's which was predominantly African American students at UCLA where they band together to say, "Let's rewrite cinema because the way that they're portraying us is f*cked up. So let's represent our experience but in order to do that we have kind of rethink the way we make films…" Women from that movement are coming who are so rad & wicked. We just want to talk films and favorite topics in a fun way. We have a group talking about women and masculinity which will be led by Mason Richards who runs this masculinity forum. We're also showing Orlando which is beautiful a sweeping epic by Sally Potter which had Tilda Swinton's defining role. We're screening that under the stars on Friday night. We're also screening Waynes' World Saturday night which we invited the whole town so it'll be just a big family screening the Amphitheater. The director Penelope Speers and actress Tia Carrera is coming. We've got just a lot of amazing stuff like Emma Roberts is bringing her book club and Alia Shawkat is bringing her new film Shako Mako, Hailey Gates the director– all exciting stuff. We've got a midnight movie Blood Diner a slasher flick by director Jackie Kong. There's a lot of very varying experiences.
That sounds very exciting.
Pick your adventure…–it's really like you could breeze through an entire day and be like, (takes a deep breath) "Awwwh" and come out gorgeously entertained. Friday night we have this welcome party with really sheek groups like Refinery29, Shatterbox YOLA and Sexy Beast which is a group that raises money for Planned Parenthood. We're having this welcome party that's open to everyone who has a ticket. It'll be at the American Legion in Idyllwild. It's going to be this fun group of ours and the festival goers, filmmakers and the vets. Also locals from Idyllwild and that's my dream to have Canon and Diane Warren and this cool lady who plays keyboard in tye-dye with feathers in her hair. All these people meshed up in one room hits the sweet spot (laughs).
Last thing, real random, but what are you going to wear?
We are wearing jumpsuits by Everybody World. We got sort of our signature colors, but Everybody World is a great label. It's sustainable. It's all made in America and they do these fantastic "onsies" in these great colors. You can actually buy them at the festival. They're definitely function fashionable and we'll be wearing them all weekend.
Awesome! Well thank you so much.
Yeah– so we've got child care, rideshare–
–so be there or be square.
Be part of this wonderful new experience and buy your tickets at: https://www.wutigoesidyllwild.com/