Written By: Bernadette Angeles
Photos by: Michelle Keller
When you combine extreme sports with great music, what do you get? Extremely great entertainment. That's what Gnarlytown's first inaugural music & extreme sports festival offered its attendees this past Saturday, June 22nd at the beautiful LA Waterfront at Port of Los Angeles Berth 46 in San Pedro, CA.
What makes this festival unlike any other is its fusion of bringing together two of SoCal's celebrated establishments: extreme sports and punkrock. The producers of the festival definitely know what they're doing. Gnarlytown was organized, clean and all accommodations were easily accessible allowing its spectators to enjoy the complete schedule where most festivals make you pick and choose what set to see.
To the right of the entryway was Chris Cole's Rail Jam street course. To the left were small water towers where attendees could easily fill water bottles ensuring Gnarlytown goers would keep hydrated. Booths filled the merch area where you can buy band & festival goodies, sample some yummy kombucha by Organic Brew DR Kombucha, buy and test products from cbdMD, see & sit on some badass 2019 Indian Motorcycles or grab some grub from Wienershcnitzel while drinking some craft beer. Passed the booths was the Nitro Circus platform where you can watch either the Nitro Circus performance or musical performances from across the way. The VIP area made VIP ticket holders satisfied with their purchase as they easily were able to lounge and enjoy the musical performances with one of the best views. All-in-all, Gnarlytown is definitely the thrillest-chillest immersive music festival known to date.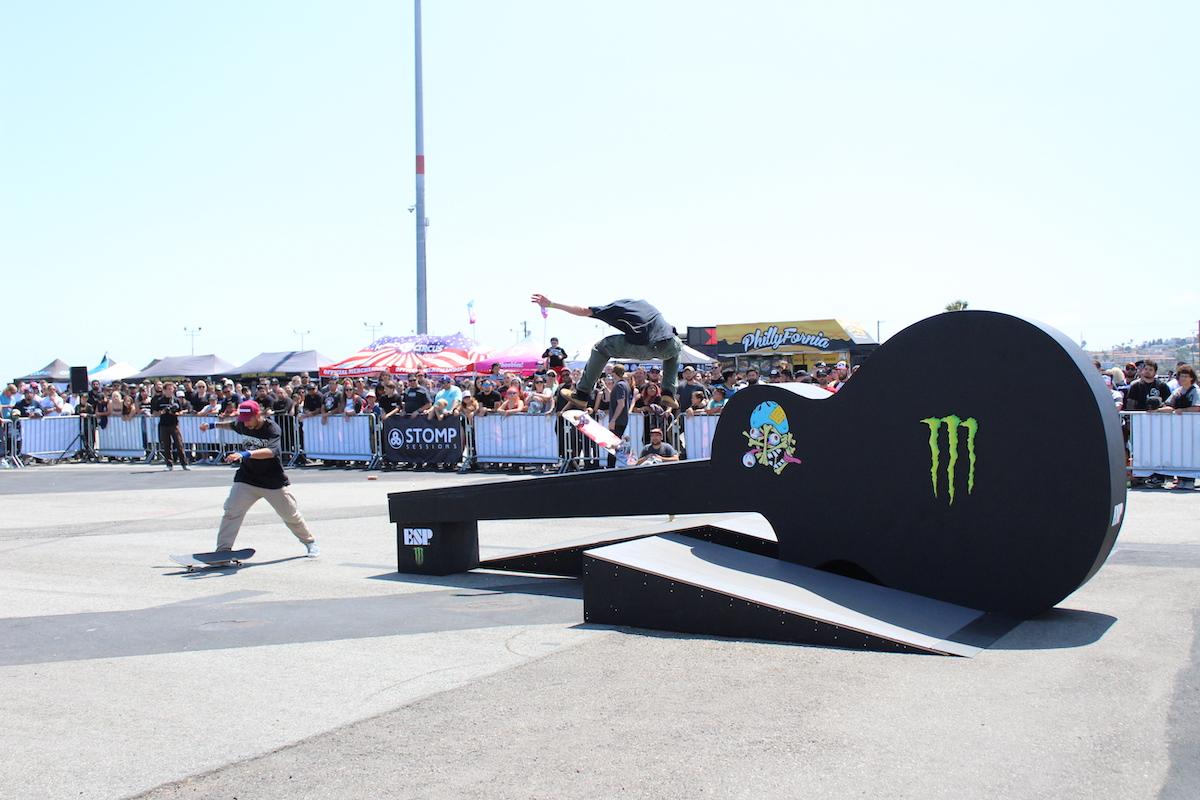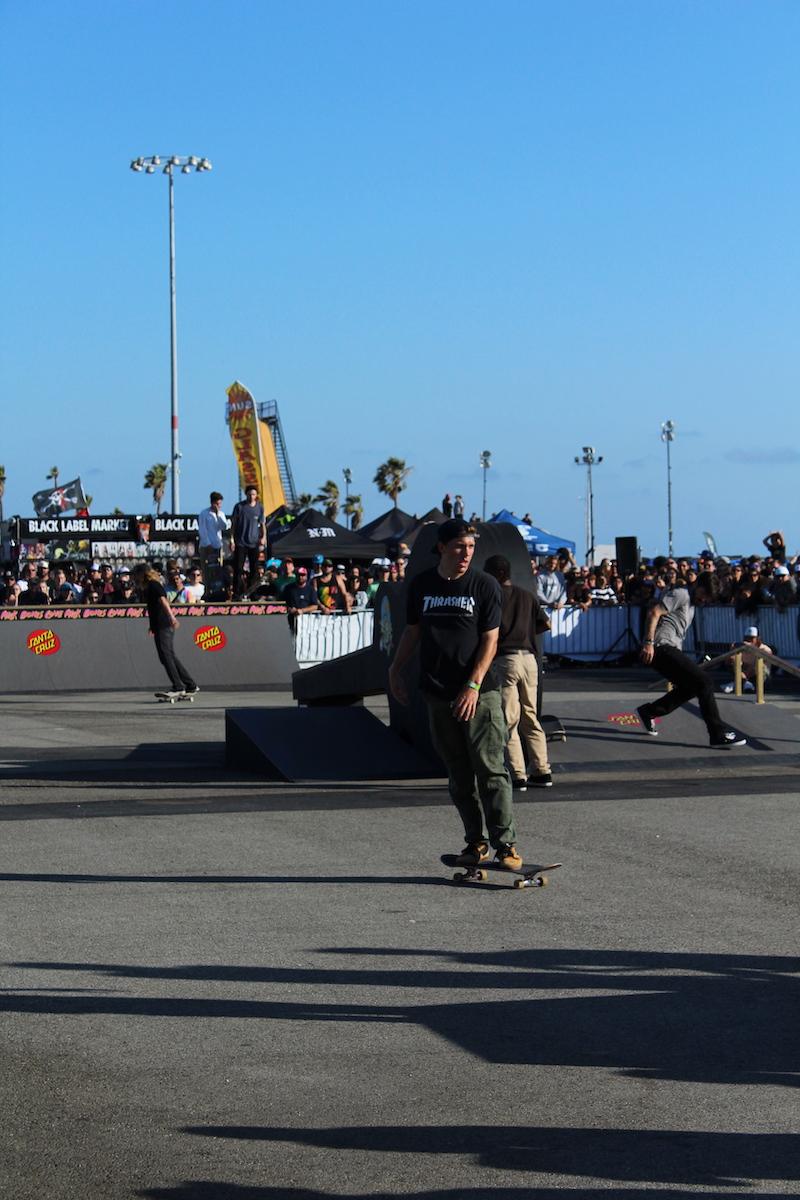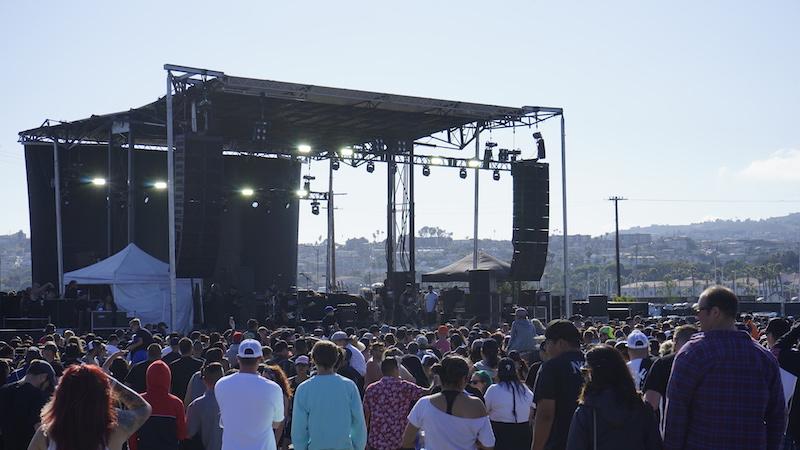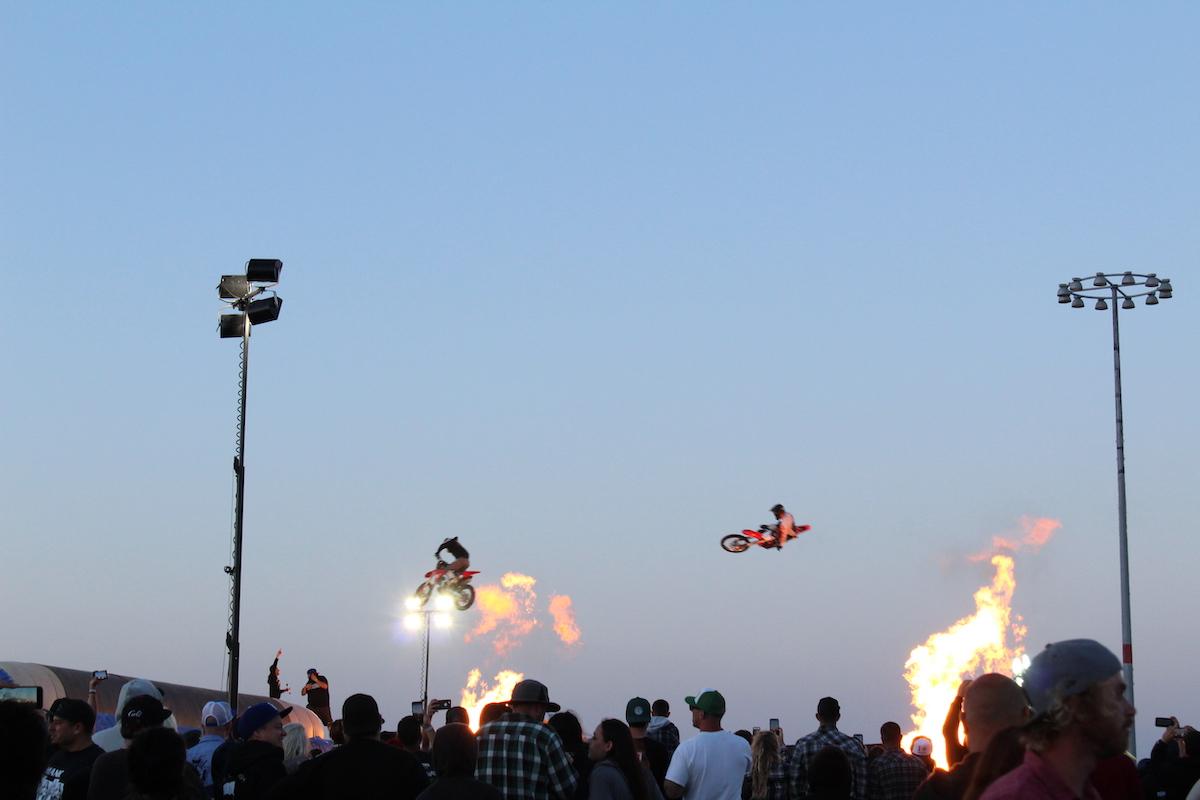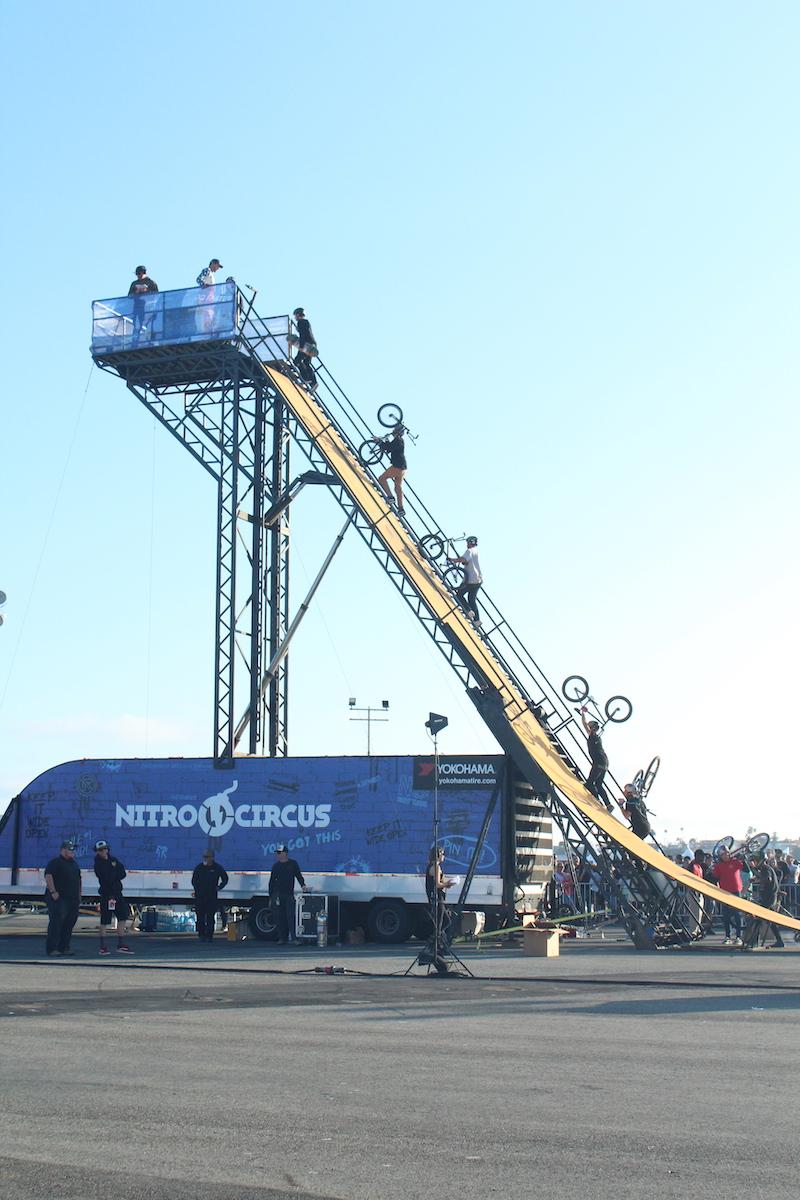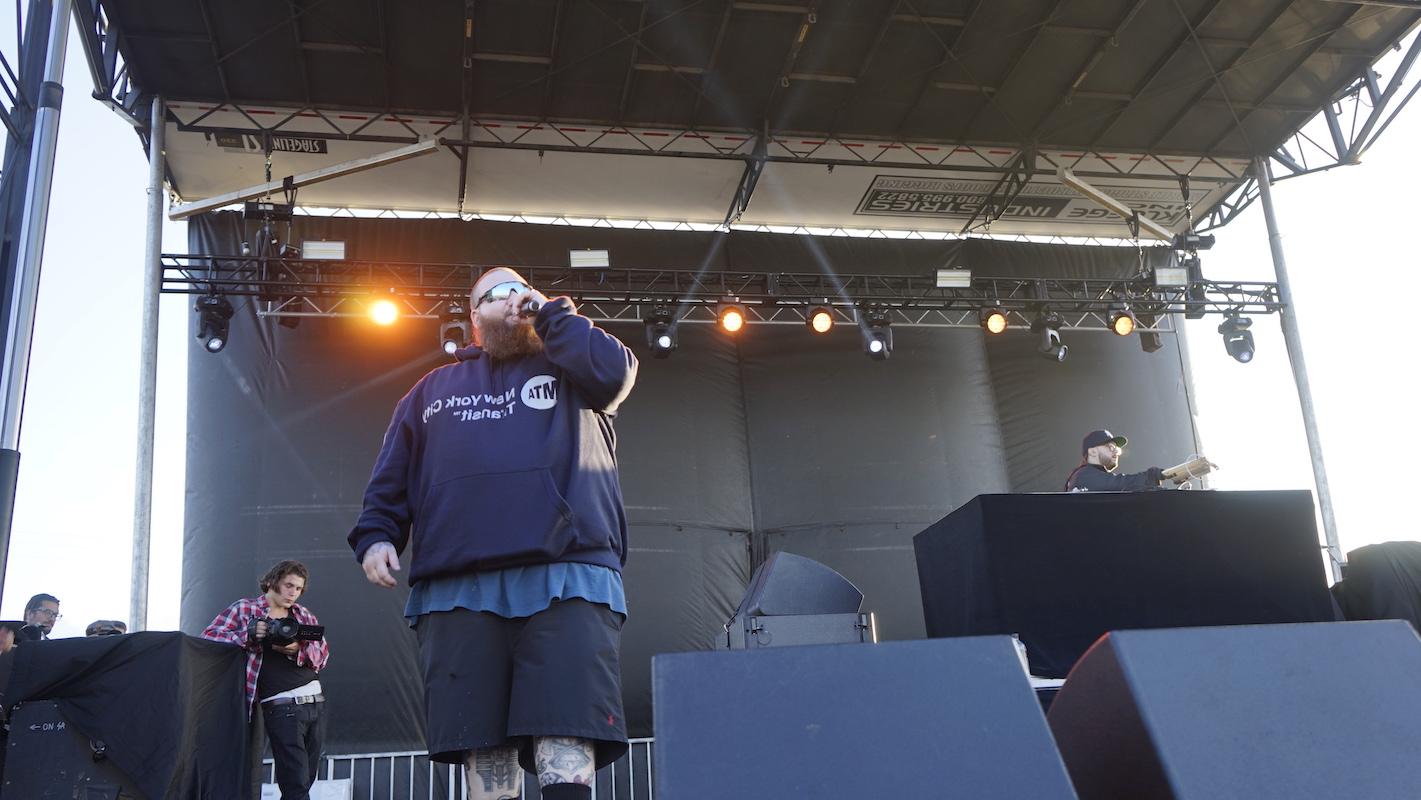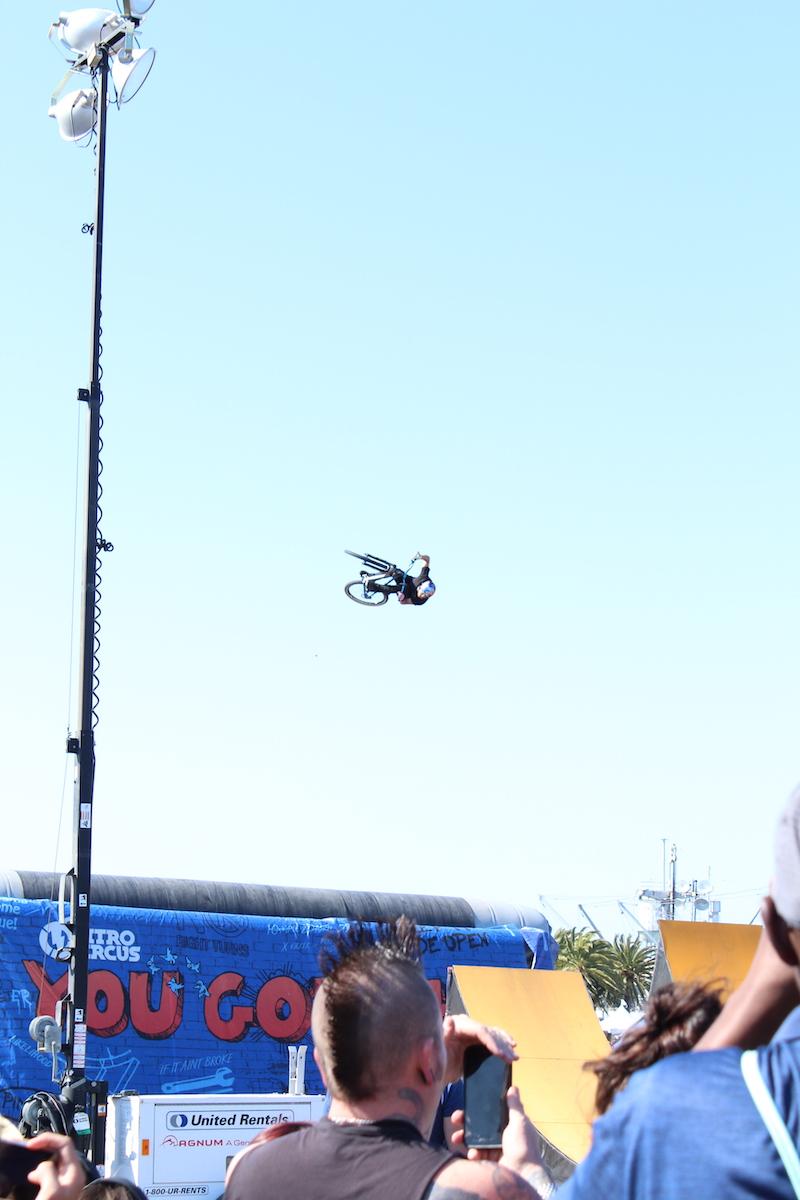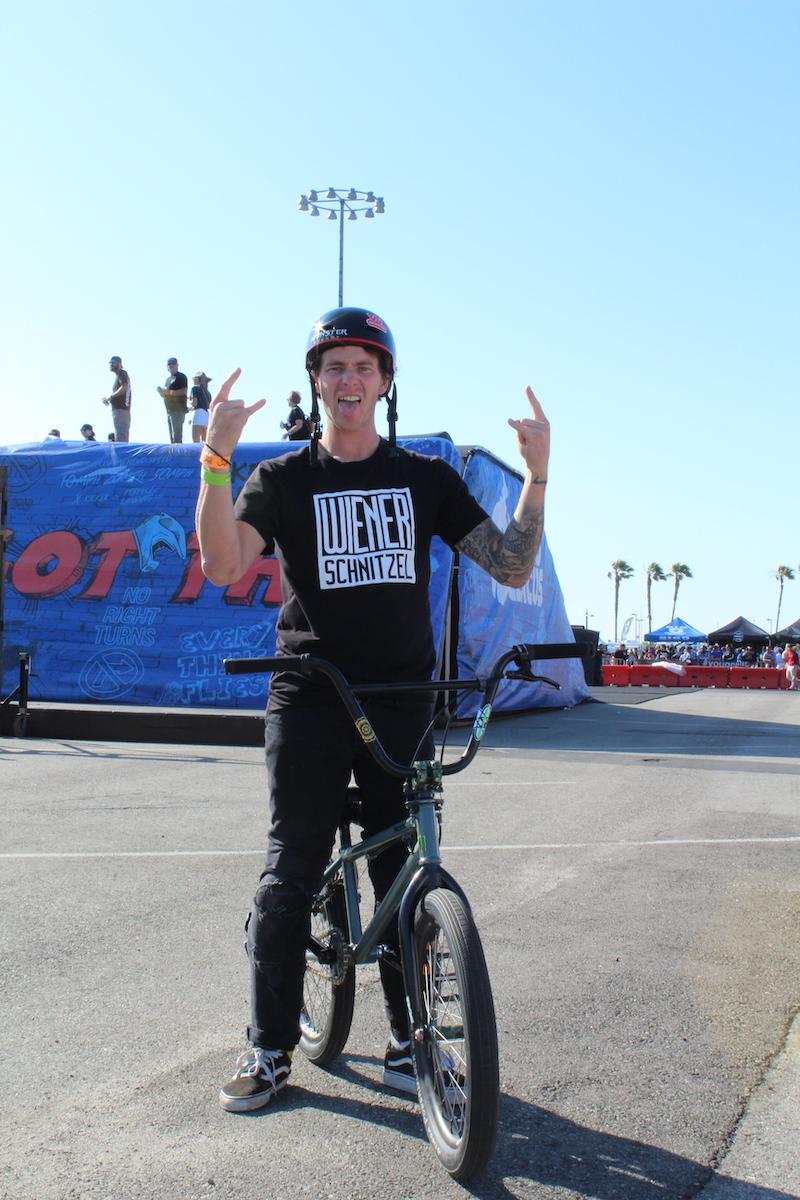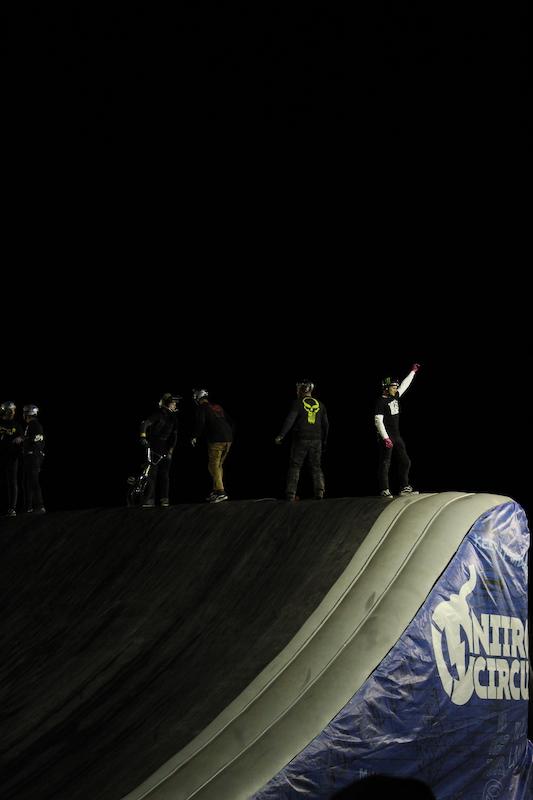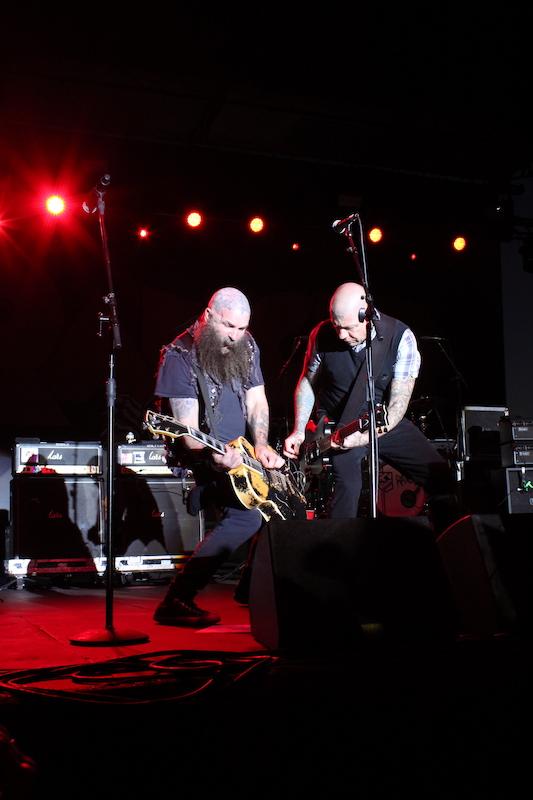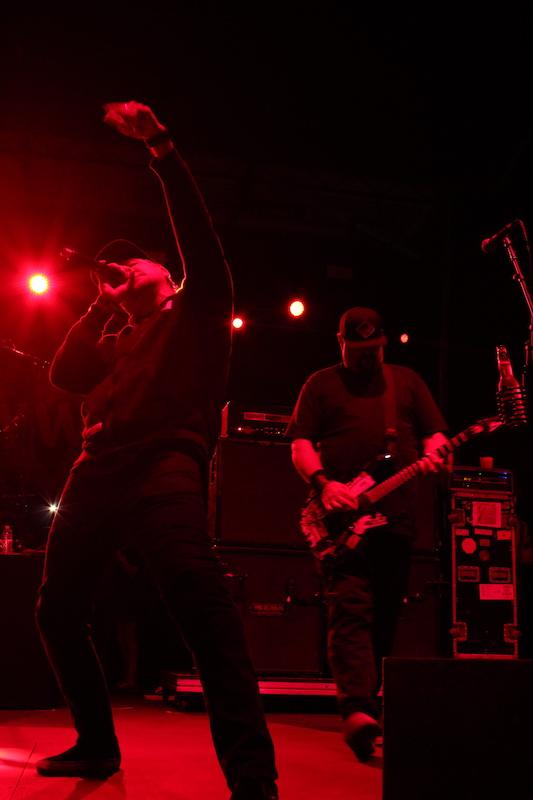 Frank151 was stoked to partake in the festival outing. Here's a little summary we've got as we hope, crossing fingers, that this is only the beginning of this enjoyable event:
1pm – Doors opened as Frank151 entered into the conveniently structured floor plan and got some fries for a late brunch snack.
2pm – The Aquadolls kicked it off with one of the best performances. With their modern day No Doubt-esque vocals, these mermaid babes are the epitome of Los Angeles punk. The chicas have radio friendly tunes, but also keep true to punk. The Aquadolls shine bright with girl power.
2:30pm – JAM 1 of the Chris Cole Rail Jam was a fun mellow start. With transition ramps on each side of the guitar shaped skate playground that consisted of a kink rail, downbox and the bridge of the guitar being a place for the skate and destroyers to do some fun wallrides; the contestants were having a fun ole' time. First and second place in JAM 1 went to David Gonzales and Mickey Papa. Prizes?! ESP Guitars USA! Perfect prizes for a skate contest at a music concert.
3pm – Mike Watt and his band brought to the stage old blues rock & roll jamming their socks off.
3:30pm – JAM 2 of the Chris Cole Rail Jam umph'd up the volume with another win by Mickey Papa.
4pm – Rotting Out brought metal not to the gears of a motocross bike, but more so the metal to music with their frontman Michael Craigs conversing with the audience. He makes metal friendly.
4:30pm – The Nitro Circus 1 kicked off with a bang with their bmxing, motocrossing and skateboarding down a steep ramp on a very windy day. Due to the wind, Nitro Circus 1 ended early.
5pm – New York hardcore band Madball played to a large crowd pumped and punkrocked out. Their metalpunk mix got the moshpit carrying one another during "Infiltrate The System."
5:35pm – JAM 3. The finals had skaters ready to push hard getting the crowd hyped. The cool breeze had something in the air as the skaters seemed to have more to show than in JAM 1 or 2. And the icing on the cake? Chris Cole's surprise participation skating the course while multitasking as host.
6:05pm – Off! formed in Los Angeles in late 2009 by Circle Jerks/Black Flag singer Keith Morris, kept the festival pumped and proud that punk is not dead nor will it ever be.
6:45pm – Nitro Circus 2 was cancelled due to the wind again. Before cancelling they entertained the crowd as one of their members did a flip from the ramp on a 3-foot 3-wheeler. The crowd appreciated the gesture.
7:15pm – Rapper, writer, chef and talk show host Action Bronson brought the grooves to the stage.
8pm – Nitro Circus 3 had fans feeling patriotic with their synchronized jumps and American flags.
8:30pm – Legendary band Rancid proves their music, style and they themselves are timeless. Tim Armstrong, Matt Freeman, Lars Frederiksen and Branden Steineckert are a force that cannot be reckon with. The Berkeley punk rock band sounds even better live. You can't help but want to rock out… thankfully no cock out.
9:30pm – As the wind died down and the crowd grew wild, Nitro Circus 4 brought the energy up as the night sky and the pyrotechnics was an entertaining sight to see.
10pm – Pennywise brought the punk to the punks who forever love punk ending this wonderfully extreme festival with a bang proving their music is "Never Gonna Die."
Frank151 also had the opportunity to interview professional BMX rider & Nitro Circus member Andy Buckworth and producer & events chair John Reese. See below: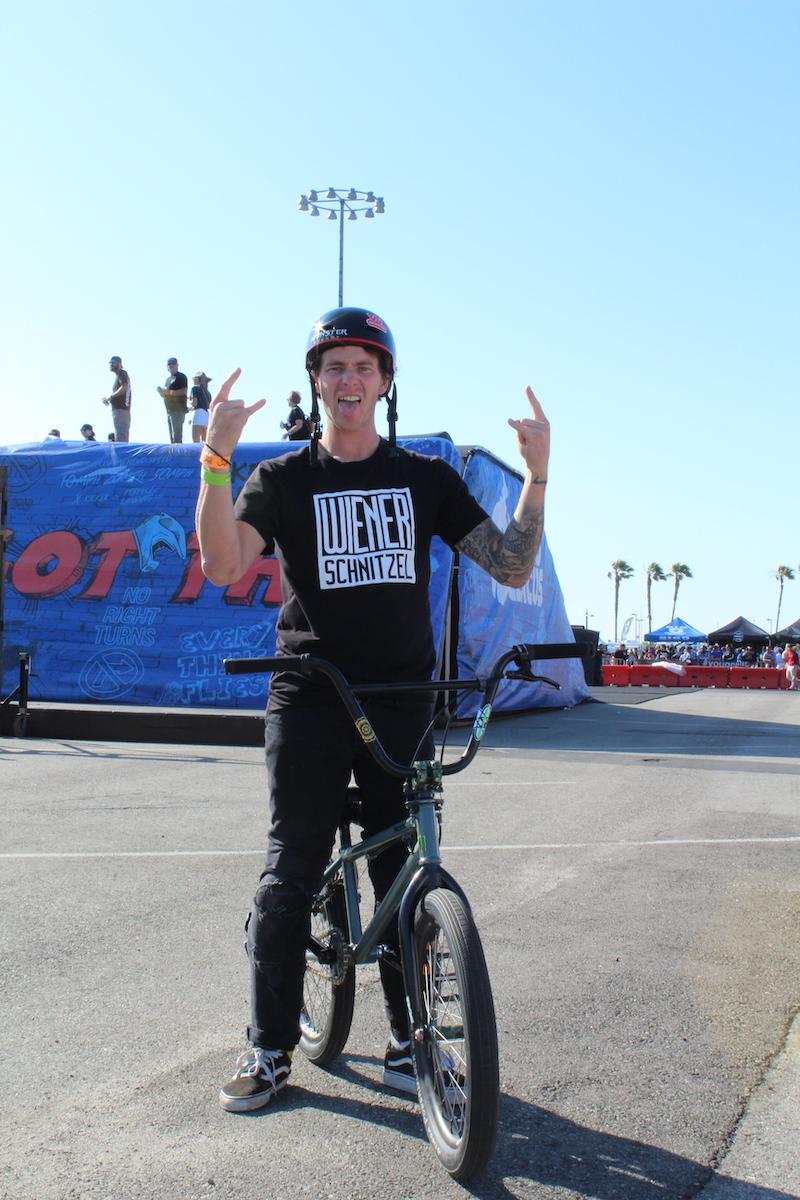 · ANDY BUCKWORTH (NITRO CIRCUS)
Frank151: How are you liking the event [Gnarlytown Fest]?
Andy: So far it's pretty cool. It's rad to mix some action sports with rock & roll bands. It's takes me back to all the shows and all the action sports videos I watched growing up when I was in Australia. Like I said, super rad vibes, super cool having all the rock & roll fans here. The only downside if I had to pick one is the wind. Blue skies-sunny rad vibes, but yeah, the wind is really-really bit of a dampener. Anytime you're going in the air: bmx bike, motocross bike, anything… skateboard; soon as you go in the air the wind is probably your biggest nemesis. Even worse than the rain. So, it's pretty windy right now. We've got people checking the weather and they're saying the wind's supposed to drop down to 6mph. If it drops down to that, we can put on a good show. You know, that's what all these riders want to do. We grew up being little showoffs and now we're just all grown, showing off a little harder. We really do want to put on a good show for the crowd and we really hope that the wind drops off so we can do that.
Frank151: That's awesome. The fans appreciate & enjoy what you guys do! How long have you been riding for?
Andy: I've been riding professionally since 2008. I've been part of Nitro Circus crew and the Nitro Circus "Travelling Band" I guess you can say, since the very beginning the first show being in 2010. So that's a good part of 9 years. It's been a pretty fun and wild rollercoaster. I'm so grateful for the experiences I've got to fulfill and the goals I've got to accomplish with Nitro Circus and the places of the world I've got to see. I wouldn't trade it for anything.
Frank151: What a fun journey. So how long have you been professional? Was that something you've always aspired to be?
Andy: The Nitro Circus stuff had come later. I've been professional since 2008, I was eighteen. My initial goals were to compete at a competitive global level. Compete in X-Games and the Dew Tour. Whatever other events were happening, global events. And only a few years after becoming professional, Nitro Circus started their live, Nitro Circus Live touring show. I was fortunate enough to know some other pros that were riding in it that put my name in a hat and one day I got that phone call. I didn't know that it about to happen or going to happen and I guess my name was on that list.
Frank151: That's so amazing, I love it. Congratulations on that. Now how do you feel about music—punk music and extreme sports coinciding with one another? Do you think there's always been a relationship between the two?
Andy: The why I see it is: action sports and music—anything we do, we're just kids that have a little something more in us… something extra inside that we're trying to get out. And that's what punkrock is, that's what rap is– R&B… that's what music is. Everyone has this little artistic gene in them that everyone is just trying to get out. For me, BMX is a way to express myself. It's the same with skateboarding, motocross—anything. It's a way to express our self, just like in music. You watch that band over there and they all have the craziest outfits and you know, their singing about things that matter to them. Again, it's just a way for us to express ourselves and so if there's some way to bring those two things together whether it's: BMX & motocross, skateboarding & motocross—music & action sports; you're just bringing a bunch of the same people together. That's why we coincide so well together. It's like harmony.
Frank151: I really love that, it makes complete sense. I totally agree. And is there anything that you look forward to seeing or are excited about the most at this event?
Andy: I'm really excited to watch Pennywise at the end of the event for a couple reasons. Pennywise is an awesome band. They've been around for a long time and my brother was a huge Pennywise-fan. He'll be jealous. It also means that it's the end of the day. That we all got through it and if we're watching the band, that means we were all safe. That everyone landed their tricks—hopefully. And we get to enjoy the concert and sink some beers while we listen to some rad music. Celebrate a good show and maybe introduce Nitro Circus to a whole new fanbase to keep doing this and keep the dream real.
Frank151: Well awesome, thank you so much Andy!!
Andy: Thank you, thanks for having me.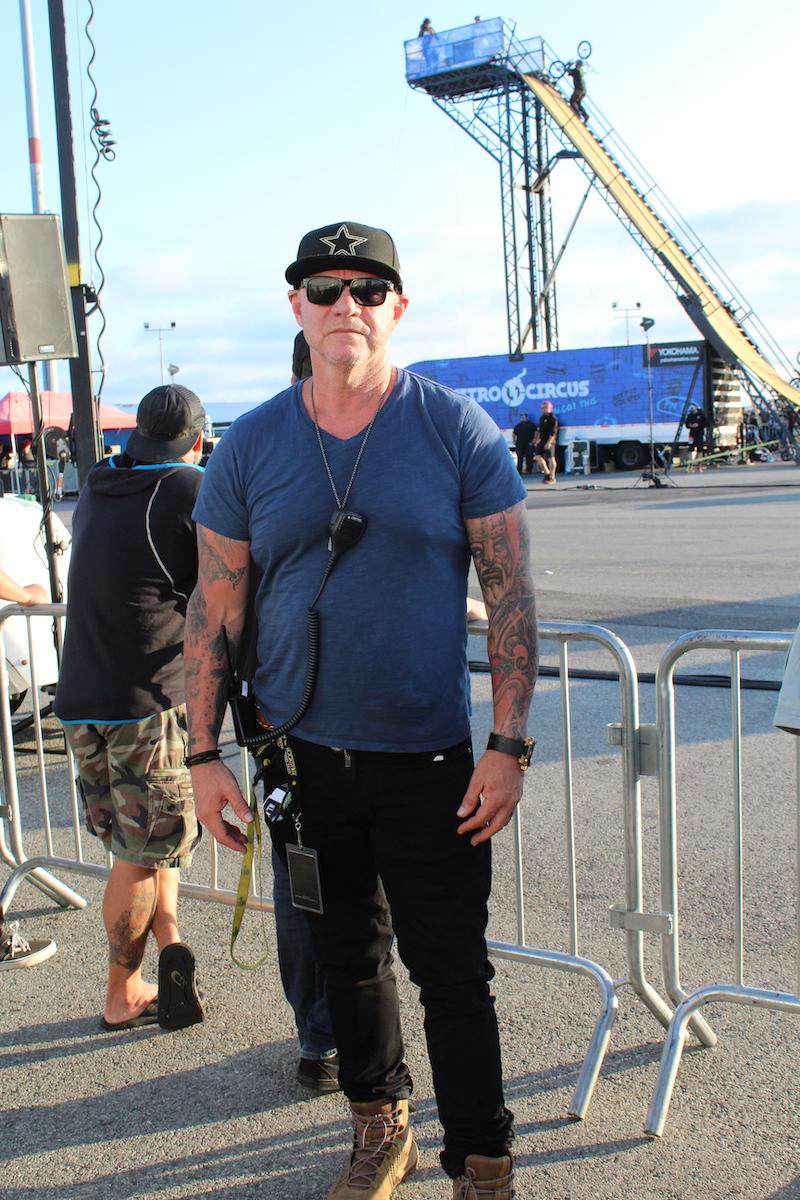 · JOHN REESE (SGE ENTERTAINMENT / HEAD/PRODUCER OF EVENTS — GNARLYTOWN)
Frank151: How did Gnarlytown come about? Is your company an entertainment events company?
John: SGE is the name of my company. I do 24 various immersive events festivals and bring in other elements besides music to them. Like Surf City Blitz, Back To The Beach—a number of other events. Keith Isola, Chris' [Chris Cole] manager hit me up and said, "Hey we'd love to do an event with you. Music and skating." And as I'm thinking about it, we find a site to do it in south Orange County. Then I'm like well, I had met Dave Mattais from Nitro [Circus]. I contact Dave and tell him, "Dave, man, we've got this cool concept with skating. With Chris Cole and we've got this great music. We're looking for the 'Nitro' element." We were going to do Nitro in the sand, at Doheny State Beach, do the street skating and everything else in the parking lot, and then the music festival on the grass. It ended up that scheduling didn't work out, but I had done The Growlers Festival at this [LA Waterfront at Port of Los Angeles – Berth 46] site a few years ago and I really liked the site and felt like it was the perfect place to do this whole immersive event together.
Frank151: It's really a great location with beautiful Cali-weather. I've never been hear before and it's awesome. I love that it was a ripple effect where Chris Cole & his manager contacted you and you contacted Nitro Circus. It's a clever event. What were you doing before this? Have you always worked in events?
John: Chris Cole's manager and I were friends. And Shawn says that Keith's client Chris Cole would like to do this really cool event. So we just met, we met at the site then later on brought Nitro [Circus] into the picture.
Frank151: I love how the idea was brought into fruition. So how did you choose the music? Did your company plan the entire event?
John: What's interesting is we went to the Nitro because they do a lot of market and research. The number one band that their fans were into was Pennywise and so they're headlining the first Gnarlytown. And then Rancid was in the top 5. So we picked those two because I'm friendly with them and we have a relationship. I put them in a lot of my festivals. I reached out to them, they were down with the idea and so we made it all come together.
Frank151: How did it everything integrate? Making an agreement to make Gnarlytown the amazing festival it has become.
John: The three of us then met at the site at Doheny State Beach and we decided we were going to do it there. It just didn't work out so I told 'the guys' I had this other site and Dave had known about 'this' site. So we all met here. Mapped it out, looked around. Said, "This goes here, that goes there, this goes here…" and so here we are.
Frank151: So there was another event you did here prior?
John: There was the one event called The Growlers Fest which used to be Beach Goth and I just love the site. I love that it's nice and cool in late June. We have a little wind issues with Nitro, but we're figuring it out. They're 'toughin' through it. You know and our goal is just to build something that's different for people. People like going to see Nitro Circus. They like going to see bands. They like going to see skateboarding. Maybe bring them all together to create a community.
Frank151: I've been saying this a lot, but again, I love that. And there is a commonality with all three and really, they're all just in different categories but amongst all three types of enthusiasts there's some overlapping in their tastes & interests.
John: One of the things I wanted to do this year was I wanted to do a hip hop stage and a punkrock stage. Because my goal with this and I think my partners share the vision. We want to create this as a place where dads will bring their kids to. So the dads can watch Rancid and Pennywise. Not that kids don't love Rancid or Pennywise, but the kids get turned on to Rancid and Pennywise. And then, we have Lil Yachty or Lil Pump and the kids go crazy and their dads get turned on to Lil Pump, Lil Yachty… like that. So, during the set changes, I'm thinking about doing that next year and we're talking about taking it to other cities as well. You know, so I think we the 3 strong entities, we can do some cool shit.
Frank151: Yeah that sounds like a brilliant idea. Is that where Action Bronson being on the line up came from?
John: We wanted to add a different kind of element to it. A little hip hop. We were going to put more hip hop on it, but then we thought about San Pedro and how Mike Watt and the punkrock really worked.
Frank151: What were or are you most excited about at this first Gnarlytown event? What you've seen already or that you can't wait to see?
John: I don't know. Those dudes on those bikes going down that big ass thing with the wind and everything is pretty crazy and how they land. It's pretty badass. And those guys on those skateboards. I mean, music is what I do so for me what I'm excited to see the skateboarding and all the action sports.
Frank151: Any projects coming up?
John: I have Real Street Festival in Anaheim [California] coming up August 10th and 11th with Cardi B, Migos, Future, ASAP Rocky… I have a massive festival at Gillette Stadium July 20th & July 21st at Foxborough with Billie Eilish, G-Eazy, Major Lazer… a bunch of big acts so, it's going to be a busy summer.
Frank151: Sounds like a good time. Congratulations keep up the good work and thank you so much for taking the time to speak with me.
John: Thank you.