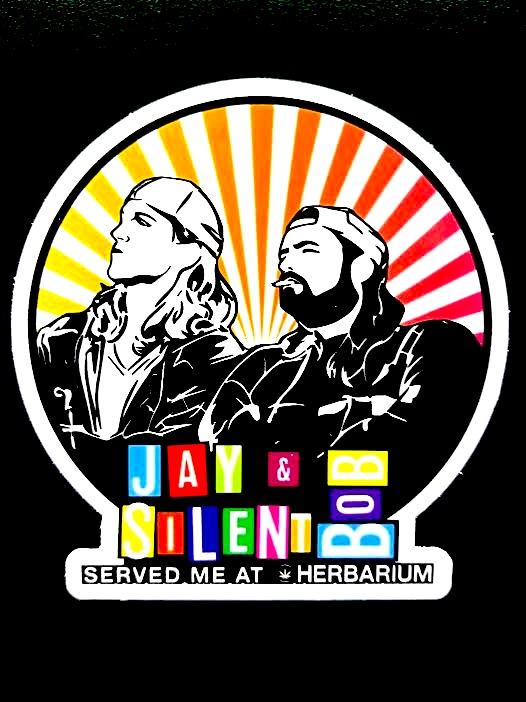 Written by: Bernadette Angeles
Photos by: Bernadette Angeles
When life imitates art it could be an amazing thing. Kevin Smith & Jason Mewes' X Herbarium's event with Jay & Silent Bob actually selling weed to customers in real life proves life imitating art is rad when done right. They done right.
Jason Mewes and Kevin Smith better known as the pair of extremely adorable weed dealers [if weed dealing is adorable]; from some of the best comedies of our time: Clerks, Mallrats, Dogma, Chasing Amy and Jay & Silent Bob Strikes Back; made an appearance on Friday September 27th at Herbarium in West Hollywood, CA. The two collaborated with the well-established cannabis company Caviar Gold to create three original marijuana strains: Berzerker, Snoogans and Snoochie Boochies. The strains are in affiliation with their new movie Jay & Silent Bob Reboot which comes out next month.
Jason Mewes and Kevin Smith's event in association with Herbarium & Caviar Gold was for any fan of the View Askewniverse. Chiefly for those that love Jay & Silent Bob AND weed. It began at 4:20pm and went until 10pm with fans lined up all day. The line went around the block as fans were excited to buy the pre-rolled joints which Kevin Smith created and wrote into the new movie. If you think about it, if you smoke one of the three pre-rolls before watching the new Jay & Silent Bob Reboot, you'll submerse yourself into the View Askewniverse and be a part of the experience!

In View Askewniverse, the characters Jay & Silent Bob are weed dealers and happen to either sell weed to, be a friend or an acquaintance of characters in Clerks, Dogma, Chasing Amy and Mallrats. If you watch any of Kevin Smith's movies it's hard not to fall in love with the characters Jay & Silent Bob. As dopey as the characters are at times –most times, they've got a magnetism that makes you want them as your friends, and if not friends, at least your reliable source for weed.
When Jay & Silent Bob Strikes Back was released in theaters, fans grew to love the duo even more with every fan memorizing Jay's sing-song "Fifteen bucks little man, put that shit in my hand. If that money doesn't show then you owe-me-owe-me-owe. My jungle love, oh-e-oh-e-oh. I think I wanna know ya, know ya…" in which actors Jake Richardson and Nick Fehlinger, young punkrock teens at the time, buy weed from Jay & Bob in front of Quick Stop and RST Video. Though weed dealers only in the movie as the fictional characters, Kevin Smith and Jason Mewes are now real-life weed dealers and have created Jay & Silent Bob pre-rolled joints which are available at major dispensaries.
One word of advice if you're reading this Jason and Kevin, PLEASE don't quit your day jobs. We love you too much as the entertaining filmmakers y'all are. –or wait, would weed dealing be the day job and filmmaking the real job?? –or would the day job just be part of the night job which is part of the dream job because filmmaking happens during days & nights…where am I going with this… –am I irie?! –I guess the pre-rolls work.
And with that, snoogans.